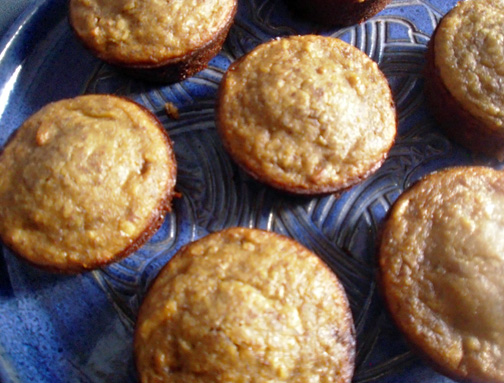 Super moist with apple chunks in every bite!
Now I made these with my son who Loves to help me bake or cook just about anything. I tweaked the recipe and I will have the recipe I did it.
1C. all purpose flour 1C. whole wheat flour 3/4 tsp. salt 2 tsp. baking powder
2 Tbsp. white sugar 2 Tbsp. brown sugar 2 Tbsp. butter, melted
1 cup finely chopped apples 1 egg, beaten 2/3 C. milk 1/2 tsp. cinnamon
1/4 tsp. ground cloves 1/4 tsp. ground all spice (if you have it use apple pie spice)
1) Preheat oven to 400 degrees. Mix the first 6 ingredients together till well blended.
2) Blend in butter.
3) Add apples and seasonings to the batter.
4) Add the egg and milk. If the batter is still a little dry slowly add more milk until it's well blended and not so doughy looking.
5) Fill prepared muffin pan 2/3 full.
6) Bake for 20 min. in a regular muffin pan and 25 min. in a jumbo (which I used for this) pan.
Note: If you are doing jumbo muffins...double this recipe it will give you 12 jumbo muffins.