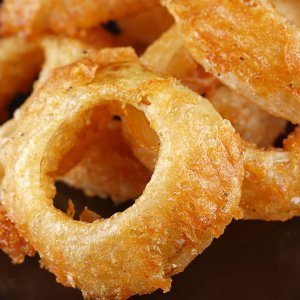 Well I for one am not a fan of onion rings, but I sure do love the smell of fresh made onion rings with that crispy batter deep fried goodness that makes your mouth water and your stomach growling.
For all you onion ring lover's please let me know what is about this simple dipper that you all love about it!
Ingredients
1 egg
1/4 cup vegetable oil
1 cup milk
1 cup flour
1/2 teaspoon salt
1 teaspoon baking powder
2 large sweet onions, sliced
1/2 cup flour (for coating onions)
oil (for frying)
1. Mix egg, oil, and milk on low speed of mixer for 1 minute.
2. Add dry ingredients and mix until smooth.
3. Coat onions in flour.
4. Dip in batter.
5. Fry in hot oil 375* until desired shade of brown.