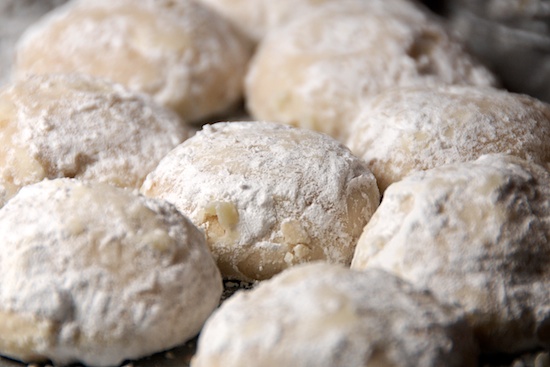 Oh so small yet oh so good
I usually ask for these as my christmas present from my granny and her buttery velvet pound cake. I make these every other year or so for christmas. Nothing like velvet yummy goodness of sugar cookies with pecans covered in powder sugar. Ok now for the recipe.
I
ngredients
1 cup unsalted butter, at room temperature
1/2 cup confectioners' sugar, plus more for coating baked cookies
1 teaspoon vanilla extract
1 3/4 cups all-purpose flour, plus more for dusting hands
1 cup pecans, chopped into very small pieces
Directions
Preheat the oven to 275 degrees F. Line cookie sheets with parchment paper.
Using an electric mixer, cream the butter and sugar at low speed until it is smooth. Beat in
the vanilla. At low speed gradually add the flour. Mix in the pecans with a spatula. With
floured hands, take out about 1 tablespoon of dough and shape into a crescent. Continue to
dust hands with flour as you make more cookies. Place onto prepared cookie sheets. Bake
for
40 minutes. When cool enough to handle but still warm, roll in additional confectioners'
sugar. Cool on wire racks.